Professional boxing career Edit
Josh Ekrem began a life as a  professional boxer, debuting in 2004. He trained at Bob Arum's Top Rank Boxing Gym in Las Vegas, Nevada and was trained by the great WBA Bantamweight World Champion, Richie Sandoval.
Early in his career he served as a sparring partner for the likes of World Champions, Jeff Lacy and Kasim Ouma.
He is a former International Boxing Organization (IBO) Middleweight World Champion who held the the title during 2004–2005. He compiled a professional record of 16-1, 13 KO's, winning 16 straight bouts after losing his first bout by majority decision.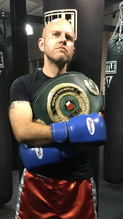 In 2005, he vacated the IBO Middleweight Championship.
Boxing RecordEdit
External links Edit
Ad blocker interference detected!
Wikia is a free-to-use site that makes money from advertising. We have a modified experience for viewers using ad blockers

Wikia is not accessible if you've made further modifications. Remove the custom ad blocker rule(s) and the page will load as expected.