Muhammad Ali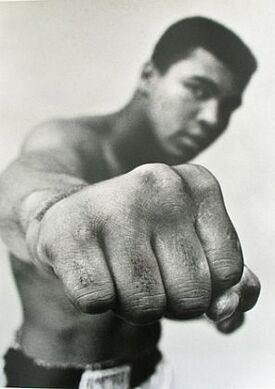 Biographical information
Birthname:
Cassius Marcellus Clay
Nationality:
American
Nickname:
The Greatest
The People's Champion
The Louisville Lip
Height:
6'3" (1.91 m)
Reach:
80" (203 cm)
Weight class
Heavyweight
Born:
January 17, 1942
in Louisville, Kentucky, United States
Died:
June 3, 2016 (age 74)
in Phoenix, Arizona, United States
Boxing career information
Style/Boxing Stance:
Orthodox
Career record:
61 total bouts, 56 wins, 5 losses, 0 draw, 37 KO's, 0 no contests
Olympic Medals won:
Gold at the 1960 Olympic Games

Muhammad Ali (born Cassius Marcellus Clay Jr.; January 17, 1942 - June 3, 2016) was a former American Boxer. He was the first ever three time Heavyweight champion of the world and is to this day the only man ever to win the lineal title in the Heavyweight division on 3 separate occasions. Ali is widely considered to be the most famous boxer of all time.
Early life
Edit
Muhammad Ali was born Cassius Marcellus Clay Jr. on January 17, 1942 in Louisville, Kentucky. Considered one of the greatest athletes in boxing history, Ali showed at an early age that he wasn't afraid of any bout—inside or outside of the ring. Growing up in the segregated South, Ali experienced racial prejudice and discrimination firsthand, which likely contributed to his early passion for boxing.
At the age of 12, Ali discovered his talent for boxing through an odd twist of fate. His bike was stolen, and Ali told a police officer, Joe Martin, that he wanted to beat up the thief. "Well, you better learn how to fight before you start challenging people," Martin reportedly told him at the time. In addition to being a police officer, Martin also trained young boxers at a local gym.
Ali started working with Martin to learn how to box, and soon began his boxing career. In his first amateur bout in 1954, he won the fight by split decision. Ali went on to win the 1956 Golden Gloves tournament for novices in the light heavyweight class. Three years later, he won the National Golden Gloves Tournament of Champions, as well as the Amateur Athletic Union's national title for the light-heavyweight division.
Record and Statistics
Edit
Statistics
Edit
Name: Muhammad Ali
Nationality: United States
Nicknames: The Greatest, Louisville Lip
Weight: Heavyweight
Height: 6'3
Stance: Orthodox

Boxing Record
Edit
Fights: 61
Wins: 56
Wins by KO: 37
Losses: 5
Draws: 0
No contests: 0

Achievements
Edit
3 time World Heavyweight Champion
Light Heavyweight division Gold Medal at the 1960 Summer Olympic Games
Ad blocker interference detected!
Wikia is a free-to-use site that makes money from advertising. We have a modified experience for viewers using ad blockers

Wikia is not accessible if you've made further modifications. Remove the custom ad blocker rule(s) and the page will load as expected.