Muhammad Ali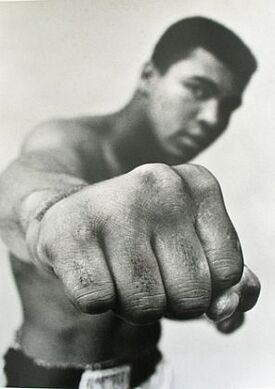 Biographical information
Birthname:
Cassius Marcellus Clay
Nationality:
American
Nickname:
The Greatest
Height:
6'3" (1.91 m)
Reach:
80" (203 cm)
Weight class
Heavyweight
Born:
January 17, 1942
in Louisville, Kentucky, United States
Boxing career information
Style/Boxing Stance:
Orthodox
Career record:
61 total bouts, 56 wins, 5 losses, 0 draw, 37 KO's, 0 no contests
Olympic Medals won:
Gold at the 1960 Olympic Games

Muhammad Ali is a former American Boxer. He was the first ever three time Heavyweight champion of the world and is to this day the only man ever to win the lineal title in the Heavyweight division on 3 separate occassions. Ali is widely considered to be the most famous boxer of all time.
Record and Statistics
Edit
Statistics
Edit
Name: Muhammad Ali
Nationality: United States
Nicknames: The Greatest, Louisville Lip
Weight: Heavyweight
Height: 6'3
Stance: Orthodox

Boxing Record
Edit
Fights: 61
Wins: 56
Wins by KO: 37
Losses: 5
Draws: 0
No contests: 0

Achievements
Edit
3 time World Heavyweight Champion
Light Heavyweight division Gold Medal at the 1960 Summer Olympic Games