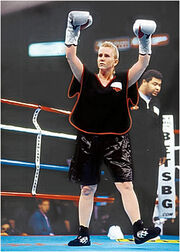 Tonya Harding (born November 12, 1970 at age: 41) is an American figure skating champion. In 1991 she won the U.S. Figure Skating Championships and placed second in the World Championships. She was the second woman, and the first American woman, to complete a triple axel jump in competition. In 2002, she started a Boxing career, but it was short lived.
Boxing Career and Statistics
Edit
Her overall record was 3-3-0
External Links
Edit
Ad blocker interference detected!
Wikia is a free-to-use site that makes money from advertising. We have a modified experience for viewers using ad blockers

Wikia is not accessible if you've made further modifications. Remove the custom ad blocker rule(s) and the page will load as expected.