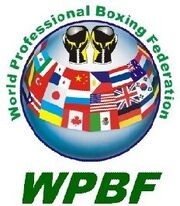 The World Professional Boxing Federation (WPBF) is an international sanctioning body that sanctions professional boxing matches and awards world and subordinate championship title. Its main function are dedicated to promoting and serving the sport of professional boxing, and to implement its own fair, scientific, independent and objective computerized rankings system for the ratings of professional boxers and to establish uniform safety measures and uniform procedures for the protection of professional boxers as well as the conduct of championship matches. The World Professional Boxing Federation (WPBF) has its own authority to regulate, control and supervise the conduct of sanctioned matches in its own jurisdictions, throughout the Africa, Asia-Pacific, Europe, North America and Latin America, and implementing fairness and equal opportunities at all times, impartially, honestly and fairly to everybody, with its own juridical personality and fiscal autonomy, having jurisdiction and competence over all associated Associations and Members that are part relevant.
The history of World Professional Boxing Federation (WPBF) can be traced back to its predecessors, the WBS & WBE. In October of 2005, the United States Boxing Council (USBC) became affiliated with the WBE, and then WBE was officially renamed as World Professional Boxing Federation (WPBF) in 2006.
Recently,the WPBF have hired a former IBM senior software engineer and an experienced sports statistician created an objective, fair, scientific, accurate, independent and unbiased computerized rankings system for elite professional boxers to replace the myriad of subjective rankings that have become skewed.
VISION & MISSION
To working towards a common goal of insuring health, safety and protection in the sport of boxing, and to protect and ensure the safety and welfare of professional boxers around the world; To prevent all methods or practices which might severely damages the integrity, image and value of boxing, to promote the sport of boxing as integrity, equity, fairness, transparency and healthy exercise; To implement a fair, equitable, scientific, independent and objective computerized rankings system for the ratings of professional boxers, and to provide a fairness and equal opportunity at all times to all associated parties and participants;
To create a sustainable competitive advantage to provide more opportunities for the best and brightest boxers to help their dreams come true, as well as achieve our common goal;
To increase high-quality competition, and to recognize the best boxer as our Champion, and to ensure the boxing fans around the world to enjoy a higher levels of competition;
To enhance the overall quality of ring officials and improve their ethics, and professional conduct, and to ensure the greater equity, transparency and fairness for the result of each competition;
To start-up the WPBF tournament series to protect the interests of WPBF ranked male and female professional boxers and to bring more fresh atmosphere into the sport of boxing, instead of just having routine boxing matches.
Ad blocker interference detected!
Wikia is a free-to-use site that makes money from advertising. We have a modified experience for viewers using ad blockers

Wikia is not accessible if you've made further modifications. Remove the custom ad blocker rule(s) and the page will load as expected.